Have you ever looked at your Google Analytics and thought the stats aren't quite right?
Google Analytics is a fantastic way to track your website views and stats. You can see a wealth of different statistics and gain a real insight into the people that visit your website. It's free and easy to set up, but unless you tell it otherwise, it will count your views to your site.
The problem with counting your own views
We all want more traffic to our websites, but we also want the stats to be legitimate too. That one visitor that spent four hours on your website today, could that have been your Marketing Assistant? That type of data can heavily disrupt mean and average data.
By counting internal traffic to your website, you will not have accurate website statistics. If you are analysing GA website traffic, simply, it won't be correct.
To avoid this, you must block your IP address from being included in your Google Analytics.
How do you block your IP address from Google Analytics?
There are two ways you can exclude your IP and own views from your Google Analytics. You can do it inside your Google Analytics or via a Chrome extension. Both have their pros and cons.
Remove/block/exclude your own views (IP address) inside Google Analytics
Before you go through these steps make sure you know your current IP address. To find you're your IP Address type the term into google, and it will display your public IP address.
To exclude your IP from inside Google Analytics, you want to go to your admin panel;
Make sure you have the correct account selected if you have more than one account and go to the 'All Filters' option and then 'Add Filter;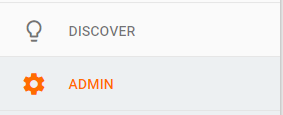 Give your filter a name we recommend something such as 'my IP address.'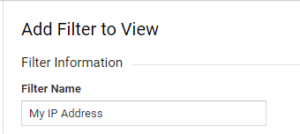 Under filter type, pick custom then select 'exclude' and open the drop-down menu. If you type 'IP' you will have the option to choose IP address;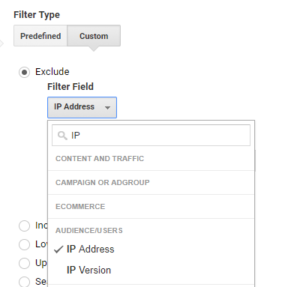 Under 'Filter Pattern' type in your IP address that you found earlier. We've used an example IP address;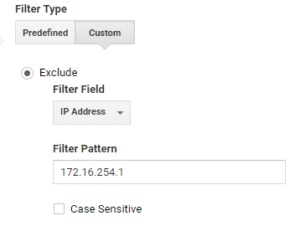 You then need to choose what view you want the filter to apply to. In most cases, you will want the 'Master' view in the 'Selected Views' column. This will apply to all your Google Analytics tracking;

Click save and hey presto! Google Analytics will now exclude your IP address from the stats! Well, kind of. Take a look at the pros and cons as to why it may not be 100% perfect.
Pros;
As the filter gets created inside Google Analytics, you don't have to rely on an external application/extension working.
Extensions can stop working and need updating regularly. Your Google Analytics will update automatically and keep your filters upon each update.
Cons;
Your IP address will change upon location, i.e., work and home. So, if you're always on the move, you will need to create multiple filters. Multiple filters won't work if you're using public Wi-Fi or mobile data.
You have to test the process works by opening a random page of your website and Google Analytics in separate tabs. As you click from page to page on your site, it shouldn't appear in your real-time analytics.
It can be quite technical to set up.
Remove/block/exclude your own views (IP address) from Google Analytics with an extension
If the first way seemed a little complicated or you want to hide your visits across multiple IP addresses, the other option is to use a Chrome extension.
Go to the Chrome web store and search for 'Block Yourself', then add the extension to your Chrome. Make sure you are signed into Chrome;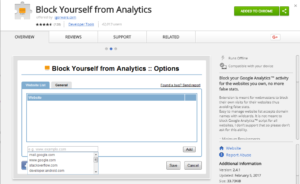 You should see the extension appear in your toolbar. If you click the icon you will be able to go to the options of the extension;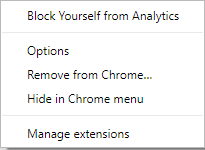 From here you just enter the website(s) you want to exclude yourself from tracking. Just type the website URL and click add.
If you want to block all the sub-domains from that website (additional pages etc.), then add a '*' before the URL. We've given examples of both below;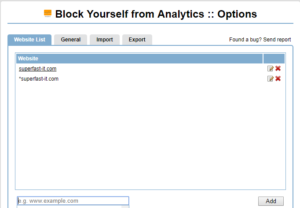 Click save to make the changes.
It's as simple as that, but like creating the filter inside Google Analytics, there are pros and cons to using an extension.
Pros;
Unlike creating your own filter, this runs across all your IP addresses if you're signed into your Google Chrome.
Extremely easy to set up and add additional sites if needed.
The ability to block other websites as well as your own.
Cons;
It will only work using Google Chrome and not other browsers, although other browsers have similar extensions.
There's always the risk that the extension will stop working or stop getting updated creating a security risk.
Will not work on mobiles or tablets.
Conclusion
We hope this guide has helped with your Google Analytics? Are you having any other problems with Analytics? Let us know down in the comments below, and we'll try our best to help!
For more great content around IT make sure you check out our Learning Centre.