Cyber Security is a new business discipline. Many cyber terms and phrases sound alien as they have only been in existence for a short number of years. If you are entering the industry or a business leader looking to understand the vocabulary used by cyber professionals, then this cyber security glossary will help.
This is our cyber security jargon buster. Here are the most common phrases used in the security profession, but also consider:
Knowing how to spot an email scam is more important than knowing the definition of 'Phishing'.

If you are working with an outsourced cyber security provider who bombards you with technical terms and uses jargon that is confusing, then they are not doing a good job.
If you have any questions about cyber security then speak to our friendly team. We don't use jargon, and provide small and medium-sized businesses with proportionate and affordable cyber security.
Common cyber security terminology


Access Control

The process of granting or denying specific requests for or attempts to:
1) obtain and use information and related information processing services; and
2) enter specific physical facilities.

Action Fraud

UK's national fraud and cyber crime reporting centre. If you think you have been a victim of cyber crime or a cyber incident including social media account cloning, report it to Action Fraud.

Back door

An unofficial means to access a system or application - one that's not officially supported and doesn't form part of the accepted or tested design, but which was inserted by one or more of the developers to provide a means of side-stepping the formal security mechanisms.

Breach

An incident in which data, computer systems or networks are accessed or affected in a non-authorised way. Also know as a Security Breach.

Bring your own d

evice

(BOYD)

An organisation's strategy or policy that allows employees to use their own personal devices for work purposes.

Business continuity plan (BCF)

A framework and procedure set that you build in order to maximise your chances of recovering from a business-impacting incident (which could include a security breach or some such).

Credentials

A user's authentication information used to verify identity - typically one, or more, of password, token, certificate.

Cyber security includes any processes, practices or technologies that organisations have in place to secure their networks, computers, programs or the data they hold from damage, attack or unauthorised access.

Cyber attack

A cyber attack is a malicious and deliberate attempt by an individual or organisation to breach the information system of another individual or organisation.

Cyber incident

A breach of the security rules for a system or service - most commonly;

Attempts to gain unauthorised access to a system and/or to data.

Unauthorised use of systems for the processing or storing of data.

Changes to a systems firmware, software or hardware without the system owners consent.

Malicious disruption and/or denial of service.

Outcome

A negative outcome of an attack involved a material loss from an organisation, such as a loss of money or data.

Impact

A negative impact on organisations did not have to involve a material loss. This could be issues relating to staff disruption or implementing new measures in the organisation.

Cloud computing

Cloud computing uses a network of external servers accessed over the internet, rather than a local server or a personal computer, to store or transfer data. This could be used, for example, to host a website or corporate email accounts, or for storing or transferring data files.

Cyber

Relating to computer systems, networks (including the internet) and devices in general.

Cyber awareness training

Cyber awareness training is provided to employees to provide a base level of knowledge about cyber security. Employees can use this knowledge to spot a scam, question the legitimacy of requests, and know when and how to report a cyber incident. Cyber awareness training can come in the form of ongoing automated training, in-person one-off events, cyber posters and cyber awareness email campaigns to your staff.

Cyber Essentials

Cyber Essentials is a government-backed, industry supported scheme to help organisations protect themselves against common cyber attacks.

Denial-of-Service (DoS)

A Denial-of-Service (DoS) attack is an attack meant to shut down a machine or network, making it inaccessible to its intended users. DoS attacks accomplish this by flooding the target with traffic, or sending it information that triggers a crash.

Dictionary attack

A type of brute force attack in which the attacker uses known dictionary words, phrases or common passwords as their guesses.

Disaster recovery

Disaster recovery is the method of regaining access to IT infrastructure and data after events like fires, floods, accidental deleting or cyber incidents.

Distributed Denial-of-service (DDoS)

A Distributed Denial-of-service (DDoS) attack is a malicious attempt to disrupt the normal traffic of a targeted server, service or network by overwhelming the target or its surrounding infrastructure with a flood of Internet traffic.

Encryption

Encryption is when information is converted into a secret code hiding the original content. For example, if an encrypted laptop is stolen, the information contained on the laptop can not be seen. Also, WhatsApp conversations are encrypted so no one else can see your conversations, even if a 'hack' is attempted.

End User Device (EDU)

Collective term to describe modern smartphones, laptops and tablets that connect to an organisation's network.

Ethical Hacker

Hacking for good, seeking out cyber weaknesses that, if discovered, could be used by cyber criminals to initiate a cyber attack or breach.

This is done through 'sandboxing' - using an isolated environment to hack with no 'real world' impact or implications - a hack never takes place.

Ethical hackers can be outsourced or hired in-house to improve your security posture. Some ethical hackers find weaknesses as a hobby, without the organisation's prior permission, and ask for bounties for discovering weaknesses.

Firewall

A firewall can be either a piece of hardware or software on your network that runs monitoring checks on incoming and outgoing traffic to a user defined protocol. The firewall acts as a barrier between your computer and the internet which traffic flows through and is checked. If any traffic both incoming or outgoing goes against the predetermined set of rules, it will not be given access to the network. This can include blocked websites, viruses or malicious attacks.

Honeypot (honeynet)

Decoy system or network to attract potential attackers that helps limit access to actual systems by detecting and deflecting or learning from an attack. Multiple honeypots form a honeynet.

IP (Internet Protocol)

Internet Protocol (IP) is a communications protocol that routes data across networks (including the internet).

Logging

The collection of network and device activity data for security purposes

Malware

Malware (short for "malicious software") is a type of computer program designed to infiltrate and damage computers without the user's consent (e.g., viruses, worms, Trojan horses etc).

Managed Service Provider (MSP)

A supplier that delivers a portfolio of IT services to business customers via ongoing support and active administration, all of which are typically underpinned by a Service Level Agreement. A Managed Service Provider may provide their own Managed Services or offer their own services in conjunction with other IT providers' services.

National Cyber Security Centre (NCSC)

The National Cyber Security Centre (NCSC) is a government organisation and part of GCHQ. They provide cyber security guidance and support helping to make the UK a safe place to live and work online. NCSC monitors incidents, provides early warnings, disseminates information, conducts cyber threat assessments and provides general technical support.

Network

Two or more computers linked in order to share resources.

Password Manager

Tools that help you generate and retrieve multiple passwords.

Patching

Applying updates to firmware or software to improve security and/or enhance functionality.

Patch management

Having a policy to apply software security updates within 14 days of them being released.

Penetration testing

Penetration testing is where staff or contractors try to breach the cyber security of an organisation on purpose, in order to show where there might be weaknesses in cyber security.

Personally-owned devices

Personally-owned devices are things such as smartphones, tablets, home laptops, desktop computers or USB sticks that do not belong to the company, but might be used to carry out business-related activities. These are also referred to as Bring your own device (BYOD).

Phishing

Fraudulent attempts to extract important information, such as passwords, from staff with infiltration through a link or attachment sent via email.

Router

A network device which sends data packets from one network to another based on the destination address. May also be called a gateway.

Security breach

A security breach is any incident that results in unauthorised access of data, applications, services, networks and/or devices by bypassing their underlying security mechanisms. Also known as a Breach.

Smishing

A 'smishing' attack is a form of phishing in which the actor uses a compelling SMS text message to trick targeted recipients into clicking a link and sending the actor information or downloading malicious programs to a smartphone.

Social engineering

Fraudulent attempts to extract important information, such as passwords, from staff with infiltration through an impersonation attempt of the organisation

Software as a service (SAAS)

Describes a business model where consumers access centrally-hosted software applications over the Internet e.g. Dropbox. There are many others also available.

Spear phishing

Spear phishing is a phishing method that targets specific individuals or groups within an organisation.

Ransomware

A type of malicious software designed to block access to a computer system until a sum of money is paid.

Removable devices

Removable devices are portable things that can store data, such as USB sticks, CDs, DVDs etc.

Restricting IT admin and access rights

Restricting IT admin and access rights is where only certain users are able to make changes to the organisation's network or computers, for example to download or install software.

Smart devices

Network connected devices, personal assistants like Alexa, locks, alarms, or thermostats. This could also include your CCTV, digital reception sign-in, Ring doorbell/camera, and smart sensors in factories or capital machinery that collects data.

Threat intelligence

Threat intelligence is where an organisation may employ a staff member or contractor, or purchase a product to collate information and advice around all the cyber security risks the organisation faces.

Two-Factor Authentication (Also shortened to 2FA, 2MA or 2SV)

Two-Factor, 2-Step or Multi-Factor, Authentication/Verification is an electronic authentication method in which a user is granted access to a network or application only after successfully presenting two or more pieces of evidence to an authentication mechanism (e.g. a password and a one-time passcode).

Vishing

Voice phishing, or vishing, is the use of telephony to conduct phishing attacks

Vulnerability

An aspect of a computer system or network that is susceptible to intrusion due to a flaw in design or programming.

Water-holing (watering hole attack)

Setting up a fake website (or compromising a real one) in order to exploit visiting users.

West Midlands Cyber Resilience Centre

The Cyber Resilience Centre for the West Midlands supports and helps protect small businesses, SMEs and supply chain businesses and third sector organisations in the region against cyber crime.

Whitelisting

Authorising approved applications for use within organisations in order to protect systems from potentially harmful applications.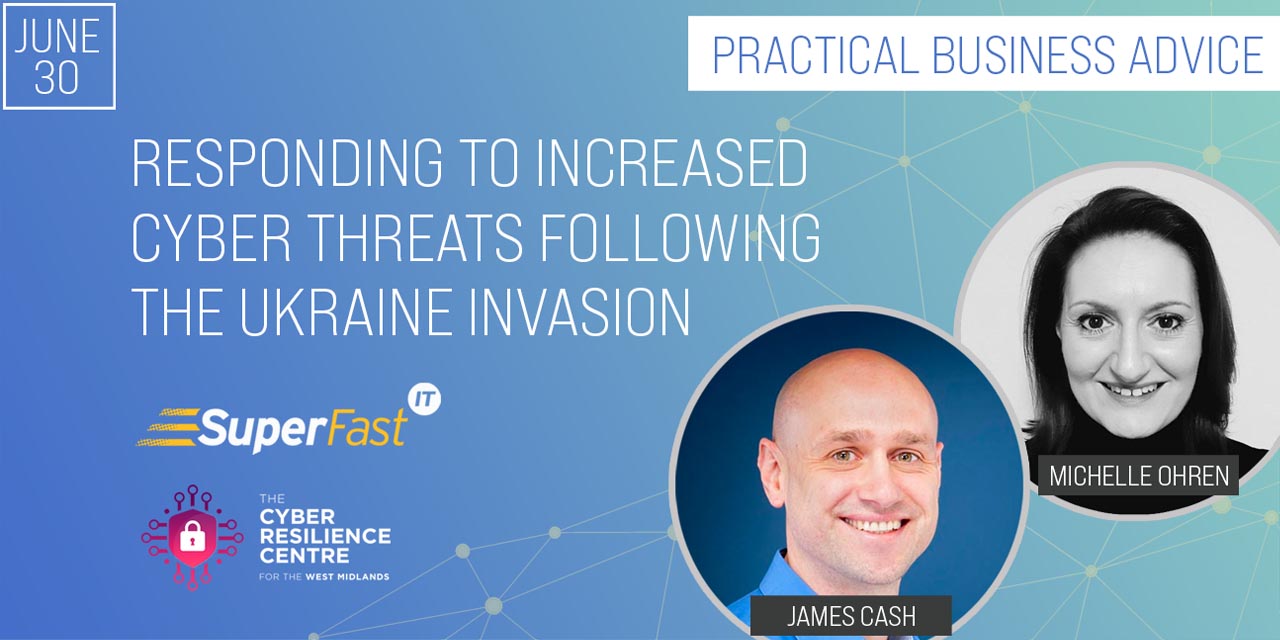 3 min read
Responding to Increased Cyber Threats Following the Ukraine Invasion Thu 30th June 2022Virtual networking event ...
Read More