Urgent WordPress plugin updates, broadcaster down-time and real cyber-attack negotiations, here is my weekly round-up of mainly cyber news this week:
Check your WordPress plugins
Broadcasters, can you afford to be off-air for 6 hours?
Firewall and anti-virus software is not enough!
Screen shots of cyber-attack negotiation
Check your WordPress plugins
Two severe vulnerabilities have been patched in Facebook for the WordPress Plugin, which has been installed on over 500,000 websites. The latest vulnerabilities found in the Facebook for WordPress plugins are a good reminder to check the security of all your WordPress plugins. Remember to:
Remove plugins that are no longer used on your website
Make sure your plug-ins are running on the latest version
You can lower the risk of a cyber-attack by doing these very simple things. Train your marketing department if they are not aware of these important tasks.
Source: Information Security Buzz
Broadcasters, can you afford to be off-air for 6 hours?
The West Midlands has a fantastic create culture, just look at the developments taking place in Birmingham and Digbeth. I'm proud to partner with some exciting, local media businesses.
I know of many broadcasters based locally – and this post is really for you.
An Australian News channel was forced off air because of a cyber-attack at the weekend. They were off air for 6 hours. A shopping channel could have payment methods down for much longer than 6 hours too.
The lesson here is to have sufficient cyber protection. I've seen that the predicted cost of the attack is $1,000,000. The price of sufficient cybersecurity is far less. Weigh it up for yourself.
Let me know if you would like to know the price of sufficient cybersecurity.
Source: BBC
Firewall and anti-virus software is not enough!
It once worked, but times have changed. Cyber criminals have moved on. They take a scattergun approach and 'test' out cyber defences. Like a thief checking to see if you've locked your car by trying out the door handles, if the door is left open, they let themselves in. Businesses of all sizes can fall victim.
Firewall and anti-virus still have their place, but extra measures are needed today.
Take a look at our article to see what cyber controls we would recommend for small and medium sized businesses based in the West Midlands.
Screen shots of cyber-attack negotiations
This is astonishing, print screens of conversations with cyber criminals, from the recent Fat Face cyber-attack.
If you have you ever wondered what a cyber-attack looks like, then this is hopefully the closest you get. Following the attack, the hackers also offered their some security advice!
Cybersecurity advice from a hacker
Retailer FatFace has paid a $2m ransom to Conti cyber criminals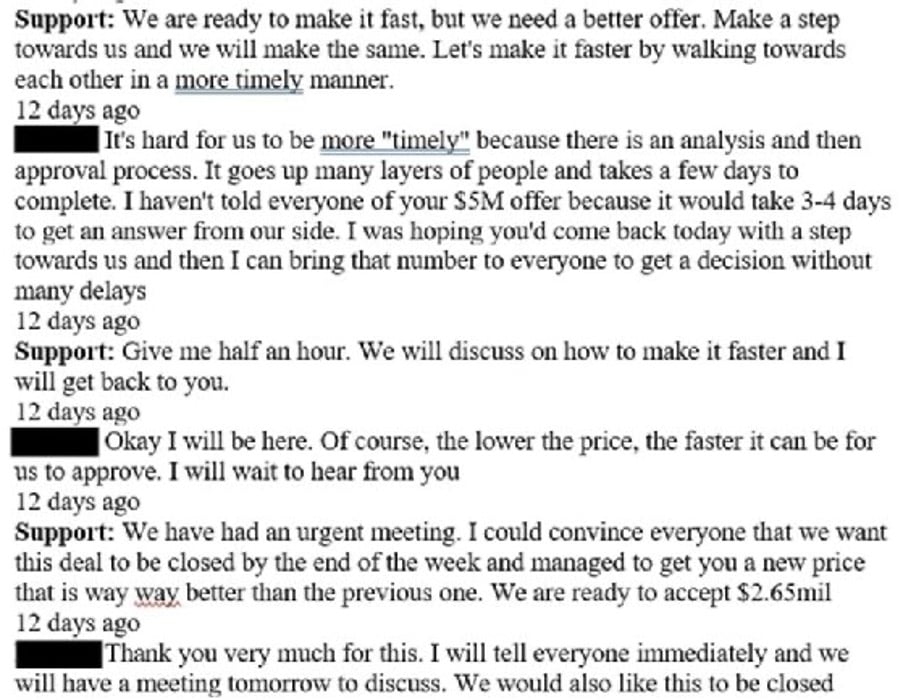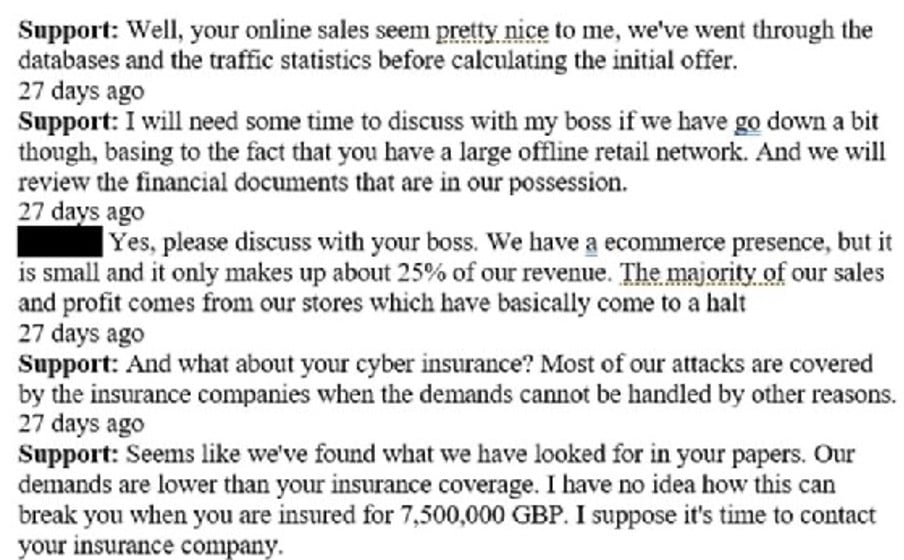 Source: Computer Weekly
What next?
Sign up to our latest news and insights: