Office 365 is Microsoft's flagship productivity software. It comes with several applications, but this article will focus on Delve and how you can use it at work. View our full list of Office 365 applications to understand all of Microsoft application's functionality.
What does Microsoft Delve do in Office 365?
Delve is your central hub for all your profile information and documentation on Office 365. You can edit your profile that gets displayed to other members of your team, such as your display image, job role and projects you're working on.
Integrating with your SharePoint account, you can see documents that your team are working on and bookmark your favourites for quick access. Sharing files is also only a click away in Delve. You can also organise your documents into subgroups. Any changes you make across Delve also carry over to the mobile application.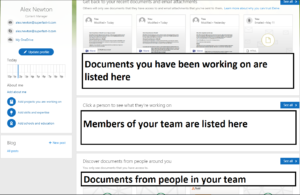 Delve has high-level privacy and security with only people with granted permission to view files able to see them.
How can Microsoft Delve in Office 365 help your business?
Delve allows your team to collaborate on documents and quickly see information about each other. Treat it as your central hub for all your documentation, and you'll never have to spend hours searching through folders again.
Boards allow you to split documents and users into sub-teams or projects such as sales, marketing, service etc.
What next?
Sign up to our newsletter
If you want to keep up to date with the latest IT and Microsoft tips, then subscribe to our newsletter:

IT support for your business
Learn about our IT support business packages and pricing to understand what coverage your small or medium sized business might need.